Ganamela in Kottayam team proudly present ganamela, mimics, stage shows, DJ Musics, Carnatic music, kathakali and also other kerala's traditional programs. Cochin Navadarshan also present celebrities stage programs and professional singer ganamela and we are the Multi-Talented ganamela troupe Ernakulam.
We Cochin navadarshan has the best team to perform ganamela, dance shows, orchestra and mega show all over Kerala. We also popularly known as ganamela in ernakulam, ganamela in calicut, ganemala in palakkad, ganamela in wayanad, ganamela in kollam, ganamela in malappuram, ganamela in thrissur and ganamela in Trivandrum, ganamela in pathanamthitta.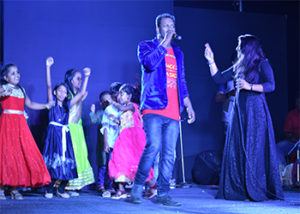 Performing Variety Entertainment is one of the primary interests of Cochin Navadarshan. It consists of a Live Musical Concert troupe with extremely talented artists who always come up with great tunes in the music industry. We provide songs in different languages, which include: Malayalam, Hindi, Tamil, English, Arabic & Mappila Songs. Violin solo fusion and Mega Shows are other performance from our troupe. Cochin Navadarshan always gives the best of talent to the public with our leading instrumentalists and singers group.
Ganamela in Kottayam:

We have best team to perform ganamela in kottayam, ganamela in pathanamthitta and ganamela in kollam. Cochin Navadarshan arranges the ganamela in kottayam at a lower cost, as per the request of the client. We offer ganamela in ernakulam and all over the Kerala.
Dance shows, orchestra shows, instrumental music, thiruvathira kali, music program, event hosting, figure show and mimic shows are the variety of services offerd by Cochin Navadarshan. And also we have great talented team to perform all kinds of shows.
Cochin Navadarshan is a company in Kerala that arranges music and entertainment by an orchestra. We assemble the people and the instruments to suit the required audience and also to make them happy. Our team can also sing the song that requested by the people.